Welcome to Central London's Official Morgan Sports Car Distributor.
Established for over 27 years in Kensington, west London, we have vast experience in buying Morgans, selling Morgans, hiring Morgans, Morgan servicing and racing Morgans. Morgan 'The First and Last Real Sportscar!'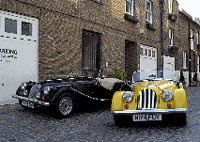 Although I started the company some 27 years ago, I still love my involvement with Morgans, buying , selling and racing a wide variety of historic race cars and of course, meeting my customers. So whether you merely want an interesting weekend renting a morgan, or a test drive and subsequent order of a new morgan or indeed discussing one of my highly desireable collectable cars, I am at your service.
Viewing is by appointment but we can meet you at any time.
Meanwhile we also link to accessories, the library, some things about racing, and, of course, the opportunity to contact us at any time.
Bill Wykeham.